Seth McFarlane y Emma Stone madrugaron este jueves para dar a conocer las nominaciones a la entrega número 85 de la Academia de Artes y Ciencias Cinematográficas de Hollywood.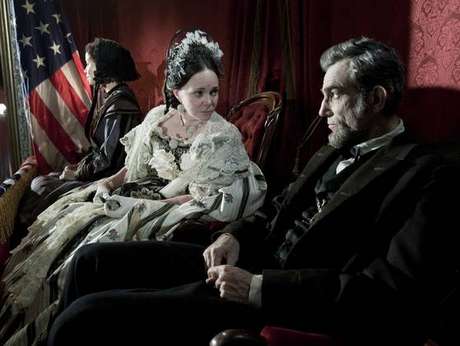 Los filmes Beasts Of The Southern Wild y Silver Lining Playbooks resultaron las sorpresas inesperadas del anuncio, acaparando nominaciones en casi todas las categorías. La película Lincoln sin embargo es la que en más ternas compite: 12.
La entrega se realizará el 24 de febrero en el Dolby Theater en el Hollywood & Highland Center en Hollywoood.
A continuación la lista completa de nominados y abajo el video con las nominaciones.
MEJOR PELÍCULA
Amour
Argo
Beast Of The Southern Wild
Django Unchained
Life Of Pi
Lincoln
Les Misérables
Silver Linings Playbook
Zero Dark Thirty
MEJOR ACTOR PROTAGÓNICO
Daniel Day-Lewis, Lincoln
Denzel Washington , Flight
Hugh Jackman , Les Misérables
Bradley Cooper , Silver Linings Playbook
Joaquin Phoenix, The Master
MEJOR ACTRIZ PROTAGÓNICA
Jessica Chastain , Zero Dark Thirty
Naomi Watts, The Impossible
Jennifer Lawrence , Silver Linings Playbook
Emmanuel Riva , Amour
Quvenzhané Wallis , Beasts Of The Southern Wild
MEJOR ACTOR DE REPARTO
Christoph Waltz , Django Unchained
Philip Seymour Hoffman , The Master
Alan Arkin , Argo
Tommy Lee Jones , Lincoln
Robert De Niro , Silver Linings Playbook


MEJOR ACTRIZ DE REPARTO
Sally Field, Lincoln
Anne Hathaway, Les Misérables
Jacki Weaver , Silver Linings Playbook
Helen Hunt, The Sessions
Amy Adams , The Master
MEJOR DIRECTOR
David O Russell, Silver Linings Playbook
Ang Lee, Life Of Pi
Steven Spielberg, Lincoln
Michael Haneke, Amour
Behn Zeitlin, Beasts Of The Souther Wild
MEJOR GUIÓN ORIGINAL
Flight
Django Unchained
Amour
Moonrise Kingdom
Zero Dark Thirty
MEJOR GUIÓN ADAPTADO
Argo
Beasts Of The Southern Wild
Life Of Pi
Lincoln
Silver Linings Playbook
MEJOR PELÍCULA ANIMADA
Frankenweenie
The Pirates! Band Of Misfits
Brave
Wreck It Ralph
Paranorman
MEJOR PELÍCULA EXTRANJERA
Amour , Austria
No , Chile
Kon-Tiki, Noruega
A Royal Affair , Denmark
War Witch , Canadá
MEJOR FOTOGRAFÍA
Anna Karenina
Django Unchained
Life Of Pi
Lincoln
Skyfall
MEJOR EDICIÓN
Argo
Life Of Pi
Lincoln
Silver Linings Playbook
Zero Dark Thirty
MEJOR VESTUARIO
Anna Karenina
Les Misérables
Licoln
Mirror, Mirror
Snow White And The Huntsman
MEJOR MAQUILLAJE Y PEINADOS
Hitchcock
The Hobbit: An Unexpected Journey
Les Misérables
MEJOR DISEÑO DE PRODUCCIÓN
Anna Karenina
The Hobbit: An Unexpected Journey
Les Misérables
Life Of Pi
Lincoln
MEJOR CANCIÓN ORIGINAL
Suddenly, Les Miserables
Everybody Needs A Best Friend, Ted
Skyfall, Skyfall
Pi's Lullaby , Life Of Pi
Before My Time , Chasing Ice
MEJOR PARTITURA
Anna Karenina
Argo
Life Of Pi
Lincoln
Skyfall
MEJOR SONIDO
Argo
Django Unchained
Life Of Pi
Skyfall
Zero Dark Thirty
MEJOR MEZCLA DE SONIDO
Argo
Les Misérables
Life Of Pi
Lincoln
Skyfall
MEJORES EFECTOS VISUALES
The Hobbit: An Unexpected Journey
Life Of Pi
The Avengers
Prometheus
Snow White And The Huntsman
MEJOR DOCUMENTAL
5 Broken Cameras
The Gatekeepers
How To Survive A Plague
The Invisible War
Searching For A Sugar Man
MEJOR DOCUMENTAL CORTO
Inocente
Kings Point
Mondays At Racine
Open Heart
Redemption
MEJOR CORTOMETRAJE DE ACCIÓN VIVA
Asad
Buzkashi Boys
Curfew
Death Of A Shadow
Henry
MEJOR CORTOMETRAJE ANIMADO
Adam and Dog
Fresh Guacamole
Head Over Heels
Maggie Simpson in The Longest Daycare
Paperman